FREE Massage for Veterans


I am no longer offering Complimentary Veterans Massage at this time. I was offering a 100% Therapeutic Massage as a way of helping Veterans, but unfortunately, many wanted to disrespect me, by wanting more than a Massage, which is illegal!

I apologize to those Veterans who legitimately could have used a Therapeutic Massage!
I'm offering FREE Massage for Veterans each month! That's right...FREE! I've partnered with Hands for Heroes to offer up to three One Hour Massages each and every month to our wonderful Military Veterans! (1 FREE per Veteran, per Month)
You can check out my Hands for Heroes Partner Certificate!
If you are a Military Veteran, schedule your first Massage with BRIE of Massage By Brie by calling (916) 790-4596, and I can schedule you, or you can use my Contact Form, via email, and we can get you scheduled.
Once I have you signed up as a Hands for Heroes Client, if you would like/need more than the 1 Free Massage during the month, I am also offering any additional massages each month, at my New Client Rate. 
If I have not used all three of the massages I've allocated for my Massage for Veteran's program each month, it's possible to get more than 1 a month. 
Why do I want to help Veterans?
Both of my Grandfathers served in the Military, coincidentally, both as Pilots, one in the Army, and one in the Air Force!  I feel this is a great way for me to give back and support the brave men and women, who serve and protect our great country!
Pictured is my Grandfather, Herb Smith, my Mom's Dad! This picture was taken on Veteran's Day in Nov. 2012, when he was 83 years old! He is a retired Lt. Colonel who was an Army Pilot and served a Tour of Duty during the Korean War in 1954 where he flew planes, and then two Tours of Duty in Vietnam.  During the first tour, he flew helicopters, and during his second tour, he was the commander of an air field.
My Grandfather on my Dad's side was Forrest Storz, who had retired as a pilot from the Air Force. Unfortunately, he passed away in 2012.  
In a sense, offering Complimentary Massage for Veterans, is a way that I can also give honor to these two great Men in my life!!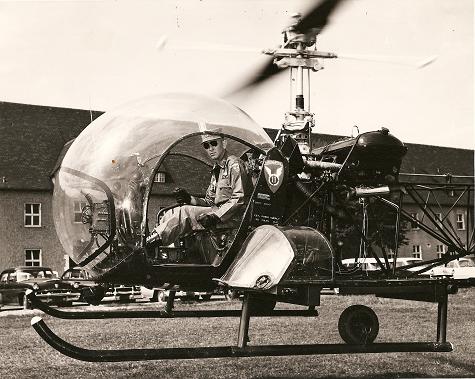 My Grandfather, Herb Smith, as 1st Lt. Smith in 1956 in Augsberg, Germany, where my Mom and Aunt Kerry were born.
Above is My Grandpa, Fori Storz, sitting in the cockpit of an Air Force F89. This was at a 57 FIS reunion, with the guys that he served with in Iceland in 1957.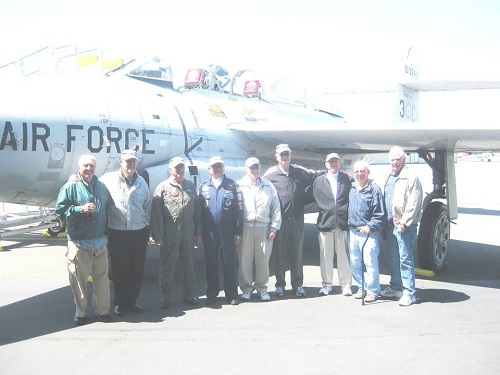 Above, the group is standing in front of the same plane.  My Grandpa Fori is the third one from the right hand side.

What is Hands for Heroes?


Hands for Heroes™ is a nationwide organization of caring health care professionals who have donated their time and skills to provide therapeutic bodywork for our Nations Veterans.
Their MISSION is:  The mission of Hands for Heroes™ is to make available to our returning Veterans Bodywork and health care services through numerous individuals and health care centers across the U.S.
How Can Massage Help our Veterans?


There are many health benefits of Massage Therapy, with the biggest benefit as a natural method to reduce Stress! You can check out my entire list of the Benefits of Massage Therapy, but there are also some that are specific to the Military.
Per Dr. Stephen Hunt, the National Director of the U.S. Department of Veterans Affairs Post Deployment Integrative Care Initiative:
"Some of the most common physical complaints of returning soldiers cannot be classified into a single disorder, Hunt said. They include nonspecific symptoms such as fatigue, pain and cognitive disturbances such as memory and concentration problems. 
The interesting thing is, we see this after ALL wars," he said. We think it's a reflection of the duress and intensity of the situation.  They're worn out, hurting, and it's kind of hard to think straight."
Here are seven health issues that confront Veterans: (1)
Musculoskeletal injuries and pain

- just over half of Veteran's post deployment health visits address lingering pain in their backs, necks, knees, and shoulders, according to Dr. Hunt.

Mental health issues

- Post Traumatic Stress Disorder (PTSD), violent behavior, depression, and alcohol abuse are some of the issues that Veteran's deal with. 

Chemical exposure
Infectious diseases
Noise and vibration exposure
Traumatic Brain Injury (TBI)

- TBI, often brought on by a blow or jolt to the head, disrupts brain function and has been called the signature wound of the fighting in Iraq and Afghanistan, according to the National Academy of Sciences.  

Common effects of TBI's include cognitive issues such as shorter attention span, language disabilities, and an inability to process information. Vets can also suffer from lack of motivation, irritability, anxiety and depression, headaches, memory loss and Post Traumatic Stress Disorder (PTSD).
Urologic injuries
Reference (1): Info. above per the Hands for Heroes website - please check out their Veteran's Health page for additional details on each of the health issues.
Please Check out my STRESS page for information on how Massage Can help deal with Stress!
---

Like This Page?