Deep Tissue Massage
Deep Tissue Massage, is a therapeutic massage that focuses on the deeper layers of muscle tissue. It is a technique that is helpful to release the chronic tension of muscles, and to target and work out any knots.
It is also a highly effective method for releasing chronic stress areas due to misalignment, repetitive motion, and past lingering injuries.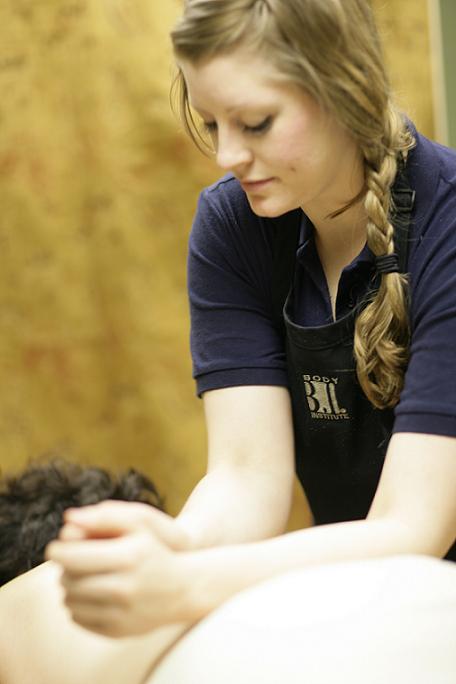 Brie Droll, C.M.T.
Photo Credit: Kendall Tobe
Model Credit: Carmalee Giambeluca
Deep Tissue Massage uses the same techniques and strokes as Swedish Massage, but the pressure will generally be more intense, as it focuses on the deeper layers of muscle and fascia (connective tissues) to release muscle tension and promote healing.
It can be applied with fingers, thumbs, forearm, elbows, or with specific massage tools.
This is a sometimes painful technique, often used to treat sports injuries. 
Deep Tissue Massage Testimonial
"Exceptional! Brie is the best massage therapist that I've come across. She's very intuitive when it comes to relieving the areas of greatest tension.  She helps me realize how much tension I'm carrying with me on a daily basis, unnecessarily.  Glad to have found her!"
~ Jadran K. = October 9, 2011
See more Testimonials and Write Your Own!
When receiving a deep tissue massage, I will ask you how the pressure is throughout the massage. While I definitely will want to work the muscles deeply, I don't want to cause you pain. It is important to speak up, if the pain is too intense.
Often, in cases of extreme knots, it may be necessary for me to work on the muscles with the Myofascial Release techniques first, which is a technique that involving the stretching and manipulation of the tough connective tissue (fascia) that surrounds the body. This will allow me to gain access to the deeper layers that need working on.
Often, due to the discomfort that clients may feel while having this type of deeper massage, it may be necessary to have more than one session in order to break up the knots, or problem areas. 
---
Types of Problems that Benefit from Deep Tissue Massage:
Deep tissue massage usually focuses on a specific problem such as:
Chronic pain issues

Limited mobility problems

Recovery from injuries (ie accident injuries such as whiplash, falls, sports injuries)

Repetitive strain injury, such as 

carpal tunnel syndrome

Posture problems

Osteoarthritis pain

Muscle tension or knots, (also known as adhesions)
---
After Your Massage:
You may be sore for a day or two after a deep tissue massage. Here are a few things that you can do to help:


Drink lots of water!! This will help flush lactic acid out of the tissues.

Don't work out afterwards! If you must work out, do it before your session, not after. Working out after this type of massage, will further stress the muscles that were worked on. Allow your body to rest!

A relaxing hot bath afterwards will help with any soreness.
---
Book a Deep Tissue Massage with Brie!
If you are suffering from chronic tension in your muscles, please schedule a Deep Tissue Massage appointment with Brie of Massage By Brie!

Book an Appointment with Brie
*****
Book an Outcall Service with Brie (Prenatal and Existing Clients only), by calling Brie at 916-790-4596 to schedule.
Please check out my 
---

Facebook - Like This Page?


Facebook - Like My Site?