Sacramento Massage Testimonials 


My Fantastic Sacramento Massage Testimonials from clients have been crucial to my success! Brie Storz, Owner of Massage By Brie has worked independently since March, 2010.
As a Certified Massage Therapist Client Testimonials, Reviews, and Recommendations are so important to building clientele. I truly thank and appreciate all my clients who have taken the time to write such great reviews for me!! I am starting to see a lot more new clients saying that they found Massage By Brie online, and booked an appointment with me, based on my outstanding reviews! Awesome!
Massage By Brie Reviews on Genbook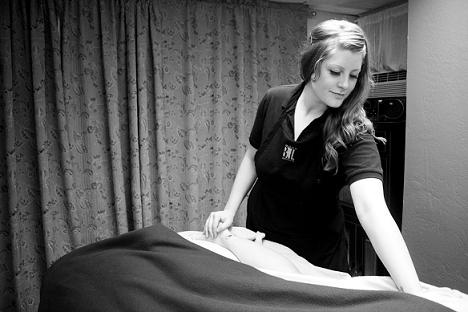 Brie Droll, C.M.T. from Massage By Brie

Reviews on Yelp
Sacramento Massage Testimonials, Recommendations and Reviews for Massage By Brie can also be found at the Massage By Brie Yelp account, and other review sites across the web, including the Massage By Brie Facebook page.  My reviews have really helped me to build a successful massage therapy business! (I've included them all below)
You can Write YOUR Own Review at the bottom of this page using the convenient form, or just write a Review in the Facebook Comment Box at the bottom of the page!!
 ~Thank YOU!!
---

Sacramento Massage Testimonials for Massage By Brie include:
C.A. @ April 28, 2014 (as seen on MBB Yelp): I visited Brie during my third pregnancy and I hate to say this, but I actually fell asleep on her massage table.  Yes, she is that good!  The setting is very private and extremely relaxing.  Brie is warm, and easy going.  I will definitely visit again and again.
Skylar M. @ January 8, 2014 (as seen on MBB Yelp): My boyfriend got me a gift certificate to Brie for my birthday.  This was the first time I've ever had a real massage, and Brie surpassed my expectations! She made me feel very comfortable and at ease and asked me if I had any specific areas she wanted me to focus on. I have bad carpal tunnel in my arms and pains in my shoulders. So I told her that and she really focused on those areas, along with the other areas of my body. Afterwards, I felt amazing! My pain is already better and I feel like I'm floating!  Definitely treat yourself and get at least the one hour integrated massage.
Cat B. @ August 11, 2013 (as seen on MBB Yelp): Brie is a gift from heaven!

I went to see her for my first prenatal massage when I was 13 weeks, and went back again when I was on my 28th week.  It was my fault I didn't see her any sooner.  She's an expert in this field! She made me feel so relaxed and comfortable. The aches and pains went away like magic.  I can't thank her enough for helping me during the course of my pregnancy.
Katie A. @ April 17, 2013 (as seen on MBB Yelp): Great massage therapist who truly knows her stuff! I began going in the beginning of my second trimester and she has helped so much! She isn't afraid to massage and get the knots out, but at the same time, she doesn't go too hard.  She is very sweet, personable, and professional.  She doesn't talke to you during the massage which is a huge pet peeve of mine.  Love her!
Brandyn H. @ December 11, 2012
Best Prenatal Massage! I've been getting massages regularly for years.  When I got pregnant, I had a hard time finding a good prenatal massage.  Most prenatal massages were ineffective at relieving the common aches of pregnancy, because they did not apply any pressure.  After several failed attempts, I found Brie. Quite simply, the Best Prenatal Massage!  She uses gentle pressure, targets the hips and low back pain, and really does an amazing job! Now my husband and I both go to Brie for all our Massage needs.


Maggie V. @ Sat., 18 August 2012
Awesome Massage! I received my first prenatal massage a few weeks ago, and it was awesome. She hit every spot that was sore and she has a good flow and positive energy about her. I'm going in for my next one on Monday, and will continue my prenatal massages until the baby comes.


Jody M. @ Sat., 14 July 2012 (as seen on MBB Yelp):
So Relaxing! I got my first prenatal massage by Brie and it was just perfect. She really understands where the muscles in the body are and she massaged sore spots that I didn't even know were bothering me. When she massaged out the pain I felt so much better. I plan on returning to her and I told my husband he should treat himself to a massage as well. We also plan on using her Doula services and I would love to tell everyone how that goes because I know it will be just relaxing.


A.J. @ Sat., 7 July 2012
Great Pre-natal massage! Great massage with the right amount of pressure in a relaxing environment! Very quiet and peaceful. Will be back for sure :)


Jennifer H. @ Sat., 30 June 2012
Mama-To-Be! Brie has been such an integral part of my pregnancy - helping to alleviate aches and pains as my little one grows. She knows exactly what to do in order to relieve any discomfort in specific problem areas. She is educated, professional, and passionate about what she does. I would recommend her without hesitation to anyone looking for a fabulous massage!


T.S. @ Mon., 18 June 2012
Happy Vet! I discovered Brie through a program called, Hands for Heroes that offers a complimentary massage to military veterans returning from deployment. I found her space, conveniently located in Midtown very cozy. Brie was friendly and soft spoken, which helped me to relax. She spent a good amount of time on my problem areas. I appreciated this, as most places simply gloss over any problem areas they come across -- more interested to just get through their routine, than to actually address an issue.


K.S. @ Thurs., 14 June 2012 (as seen on MBB Yelp):
Addicted! This was my very first massage ever & it just so happened to be while at 35 weeks pregnant. Brie made me feel so much more relaxed than I have in MONTHS! I told her about what parts of my back or hips bothered me due to pregnancy and she focused and applied just enough attention and pressure to each spot that I left there feeling like I was a new person! I understand now why so many people suggest prenatal massages. I simply couldn't have asked for a better first time experience either!


K.O @ Tues., 29 May 2012
Amazing! This was my first massage by Brie and my first prenatal massage I've had. She was knowledgeable and made me very comfortable throughout the entire massage. Brie has a very relaxing vibe that helped me relax and she applied the perfect amount of pressure! Definitely will be back!


P.B. @ Mon., 14 May 2012
Deep Tissue/Sports Massage Great massage! I was having severe plantar fasciitis pain and after one massage the pain was all gone! Just in time for my race.


Jennifer S. @ Tues, 8 May 2012
Prenatal Massage by Brie Great prenatal massage. I have been waking up with hip pain for a while now, after my massage with Brie I woke up feeling great - no hip pain. She worked on my problem areas and made me feel very comfortable. I will definitely go back.


W.B. @ Mon., 23 April 2012
Excellent Massage! I saw some reviews for her online and decided to give it a try, and I am grateful that I did. She was really professional and paid full attention to the problem areas that I mentioned. She communicated throughout to make sure that I was ok with the pressure. Felt great after the massage and really happy with the service. She has a beautiful personality and a lovely smile that makes you comfortable immediately. Overall it was a great experience and I'll definitely visit her again.
M.T. @ April 10, 2012 (as seen on MBB Yelp): Got a prenatal massage from Brie yesterday.  It was FANTASTIC! At 26 weeks, I have been having lots of lower back pain, she helped ease that immensely!  I booked the 90 min massage, and I am pretty sure I fell asleep in it.  I was completely relaxed and feeling awesome afterwards.  Her location is VERY cute, clean, and easy to find. She also offers online booking which I LOVE! Brie is a plethora of information when it comes to all things prenatal. Def will be coming back and have already told all my mommy-to-be friends about her, and her magical skills!


Tara @ Thur, 22 March 2012
Brie is Amazing! I am a university student, so my back and shoulders are a wreck. I had an introductory 90 min. massage. Such a great value. She knew exactly where to push with the right amount of pressure and was able to get out all of my knots. And almost 2 days later and they haven't popped back! She was truly amazing, I will definitely be coming back :D I definitely recommend her.


N.J. @ Thur, 15 March 2012
Great Sports Massage I've been regularly going to Brie for about a year mostly to help with running related injuries/pain. It's made a huge difference, reducing recovery time and allowing me to run more miles a week. I'd recommend her to anyone with minor to major sports related issues- she's the best therapist in the area.


Natalie M. @ Thur, 8 March 2012
60 Minute Prenatal The massage was great! She hit all the main areas that we prego women suffer from. I felt relaxed and my only regret was that I should have done the 90 minute. One improvement could be to add warm aromatic oils to her massage sessions since she only had lotion. Overall it was great


Nicole C. @ Wed, 22 Feb 2012
I Feel Better Already! I'm 8 months pregnant and have been experiencing lower back aches and hip aches. I had a pre-natal massage by Brie and left the salon feeling incredibly relaxed and currently have no back or hip pain. Thanks Brie! I'll be back!


Travis von D. @ Sat, 4 Feb 2012
Great Hands! I had requested a sports massage, but when she felt all the knots in my shoulder area she changed it up a bit to work more on those instead, which felt great. I will definitely be going back.
Wendy M. @ Thurs, 2 Feb 2012 (as seen on MBB Yelp): Um...epic!! Truly!

I am a massage snob and I can't find a single thing to complain about.  I just moved here from SF and don't know any massage places and now with my first try, I have found my Sac massage person.  She seriously knows her stuff - so technically, it was awesome - and didn't chat while doing the massage or any one of a number of things so many do that ruin it. For me this was a prenatal too, and she is not afraid of pregnant women, and gave me a really strong good massage.  Will be going back before baby, and after too.


W.L. @ Thurs, 2 Feb 2012
Excellent Experience! I enjoyed my full body massage, Brie did a great job and had exceptional skills. This experience was a 42nd birthday gift from my fiance, and I realized that I hadn't had a professional spa treatment thus far. I really appreciated the whole experience!


Sarah H. @ Thurs, 2 Feb 2012
A Great Massage! I am 6 months pregnant and my husband got me a gift certificate for a massage with Brie. It was my first prenatal massage, and what a treat! Brie was very professional and the massage was fantastic. I will definitely be scheduling another!


Katie D. @ Tues, 31 Jan 2012
Prenatal massage at its best! I have been going to see Brie throughout my pregnancy, and it has been the best choice I made. She is talented, perceptive and made a challenging pregnancy so much better. I am now 38 weeks and I can still sleep well, after I see her. Thanks!


Melissa R. @ Fri, 27 Jan 2012 (as seen on MBB Yelp):
Awesome Prenatal Massage! I received a wonderful prenatal massage. She really knew how to ease my aches and pains. I was so comfortable which is something I have not been in a while. I am seriously considering having her in the deliver room since she also does delivery room massage. I really cannot wait to go back.


M.J. @ Sat, 14 Jan 2012:
Prenatal Massage! I have been looking for a place for prenatal massages, and I am so glad that I found Massage By Brie. She made me feel very comfortable, and not only did I have a wonderful experience, but she gave me a few tips also. I thought that Brie was fantastic, and I can't wait to book my next appointment.


Marcie M. @ Tues, 29 Nov 2011:
Total Relaxation and Pain Relief! I have never had a massage therapist who could read my body and relieve pain where I didn't even know I had it. This massage and this therapist are top notch and worth every penny spent! I felt truly comfortable and relaxed. I found relief from chronic pain and can't wait to schedule my next appointment!


Lue H. @ Tues, 15 Nov 2011:
Myofascial Massage! I want to start off by saying that Brie has an awesome deal for first time clients. She did an amazing job for a myofascial massage. I thought I only had two or three Knots in my shoulders, but it turned out that there was more than I assumed. The massage not only relaxed me, but also took out most of the knots. Brie did tell me that the muscle knots I had were stubborn, and that it would take another session or two. That same day I came home with a sore feel, but the next morning I went into work.


Bill S. @ Mon, 07 Nov 2011:
Brie Relaxes! Another healing massage after my back surgery. Brie has great instincts for releasing sore muscles. This one was not the usual deep tissue, but it served the exact need at the time.


B.R. @ Mon, 24 Oct 2011:
Great massage! Brie did myofascial massage on me. She was awesome. Strong and deft hands. I finally am feeling some relief from a constantly aching shoulder. Am definitely going back.


Jadran K. @ Sun, 09 Oct 2011:
Exceptional! Brie is the best massage therapist that I've come across. She's very intuitive when it comes to relieving the areas of greatest tension. She helps me realize how much tension I'm carrying with me on a daily basis, unnecessarily. Glad to have found her!


Sara @ Thur, 29 Sept 2011:
Great massage by Brie!!! I am 8 months pregnant & I went & got a massage from Brie. Being this was my first time ever I was nervous. Coming into meeting Brie she was very kind & friendly. She did an amazing job during the entire massage. I was so relaxed & the room was a perfect setting. I will be coming back in the future & also possibly if needed having her there when I deliver my daughter to help me relax during labor....which she does as a service if needed!


D.G. @ Mon, 08 Aug 2011:
NO MORE PAIN! Brie did an awesome job yesterday! I had pain under the right side of my back, and she massaged it right out! I will definitely go back again before I leave. :)


Paul H. @ Mon, 01 Aug 2011:
OUTSTANDING MASSAGE! My first visit to Brie. She did a real fine massage on me. She knows what she is doing. I was very impressed with her massage skills. I look forward to my next appointment.


Melissa N. @ Fri, 15 July 2011:
Much needed stress relief! My husband has been going to her for a year now. I was already aware that he felt she is the best. So, I had no doubt that I would agree. What I didn't know was that this would be the best, and most stress relieving massage I've ever had. I will certainly recommend her to others.


Michael S. @ Mon, 04 July 2011:
Excellent as Always! Brie knows to take care of my shoulder as it dislocates easily. This time I had lower back pain as well. As always, she was careful when she applied pressure to it but this time something new, she picked up a couple of new techniques which worked well with me. I appreciate that she is still updating her skills and bringing something new to the table for my benefit.


S.T. @ Thurs, 26 May 2011:
Best professional massage in Sacramento! I have been going to Brie for about 5 months now. She has always been professional and thorough. I have had sports injuries and work injuries that she was able to help through. I would recommend her to all family or friends.


Rebecca R. @ Mon, 02 May 2011:
Feeling Good! Found Brie online, and glad I decided to go with her for a prenatal massage! I felt nice and relaxed--almost sleepy after! Coming back for more! :o)


T.A. @ Thurs, 28 April 2011:
Sports Massage I recently received a sports massage to help work out some hamstring and lower back issues I am having. It was amazing! I am working really hard to get back into shape after having a baby, and I am registered for two races this summer, I haven't been able to train like I want because of my tight back and hami. This was the perfect massage for me, and the two hour time frame was perfect. My workouts have been going great ever since. Brie was also very professional and kind. I can't wait to go back


X. Rodriguez @ Wed, 20 April 2011:
Brie Works Wonders! I felt amazing after my full body massage! I went in for the deep tissue, since I had weeks of feeling tense and stressed out. I recommend Brie to anyone out there looking for the best place to go to! I look forward to my next visit! Thank you Brie!


Bill S. @ Sun, 17 April 2011:
She goes right for the knots!! Brie knows how to go right to the sore muscle. Her experience gives her a knowledge well beyond her years. If you are sore, I highly recommend Brie for relief.


Tom L. @ Sun, 10 April 2011:
Amazing Massage! I have been to about 15 different massage therapists since moving to Sacramento, and Brie gives the best deep tissue massage by far. Brie is very personable, and has a very relaxing way about her. If you are looking for a great massage at a very reasonable price, Brie is definitely the one to go to.


Diana P. @ Mon, 7 Mar 2011:
Great Deep Tissue! I enjoyed my first massage with Brie yesterday, and even though there were points that were a bit tender and sensitive I still felt a lot looser today. I am suffering from some soreness and will use the gel packets that Brie so kindly gave me after my massage. I am hoping this soreness will disappear, so that I can truly feel the diff. I have experienced many massages in my life and Brie is very talented and informed. She was thorough and knew exactly where to zero in on my problem spots.


Jacki G. @ Thurs, 24 Feb 2011:
Amazing! I loved my prenatal massage with Brie - it was by far the best professional massage I have ever had!! I will definitely book future massages with her.


Maria M. @ Wed, 2 Feb 2011:
Massage By Brie I had my first prenatal massage for this pregnancy from Brie. I Googled prenatal massage Sacramento and found her. I booked online, went to my appointment, and paid online. It was so easy. Then during the massage, Brie used great pressure and treated my tender muscles carefully. I was so relaxed, I think I fell asleep and almost fell off of the bed. Great massage. I will book more appointments.


Angela U. @ Mon, 24 Jan 2011:
Brie was Awesome! I had my first prenatal massage by Brie and she was terrific. I will definitely be going back! I've been put on bedrest and all the lying around is no good on my back, neck and hips. The massage made a huge difference, and I look forward to the next!


Nathan J. @ Sun, 09 Jan 2011 18:33:36 +0000:
Great! I injured my back lifting heavy concrete tiles. I felt a hundred percent better after my appointment and had no problem skiing the following day. I'll definitely go back.


Sarah M. @ Fri, 07 Jan 2011 14:28:31 +0000:
If I'd known how wonderful Prenatal Massages were... I wouldn't have waited until my third trimester! I'm expecting twins and it's been quite the assault on my poor little body. I decided to try Brie out after reading some reviews on the internet and I'm now hooked. I plan on seeing her regularly throughout the end of my pregnancy and beyond (if I can find a sitter). She's really made this experience much more bearable.


Cindy D. @ Fri, 07 Jan 2011 14:26:51 +0000:
Lower Back Issue! Thank you Brie - I was able to sleep Sunday night after 2-3 nights of NOT sleeping because of pain in my back and legs. I will be returning this coming week.


Lynda A. @ Sun, 19 Dec 2010 10:25:19 +0000:
Lower back is so much better! Practically hobbled into her office, and by 2nd day of massage, am feeling so much better! She found all the sore spots and really did a great job. I will be back, and I will refer my friends.


John D. @ Sat, 18 Dec 2010 12:07:57 +0000:
Neck/Shoulder Pain Gone! Brie focused on the areas that were in need of attention and I felt much better after the massage. Very professional, I will be back and refer others.


Alan de M. @ Sun, 21 Nov 2010 23:11:14 +0000:
Did great work on me! Have been suffering w/myofascial pain....neck and shoulder. Have had my first treatment with her and will be going back. She is very nice, took her time, and seemed very focused on helping me out with my issues.


Gwen @ Mon, 15 Nov 2010 20:18:14 +0000:
I have had many different therapists over the years, but now I have been with Brie for over a year. Awesome pre-natal massages, awesome in the delivery room. My labor was so much better after my four hour massage. The best part of massage by Brie, is that you get an amazing massage, and the schedule is flexible so if you want one on a saturday at 8am, or Wednesday at 6pm she works with you to get the best time that works for you. Brie my back and shoulders thank you!


Camey K. @ Mon, 15 Nov 2010 08:08:41 +0000:
I can honestly say, Brie's been the most experienced massage therapist I've gone to. The pressure and tempo of the whole massage was fantastic. She uses various modalities and techniques I have never felt before. As a massage therapist myself, I've had others work on me numerous times. None of them top Brie! If you're looking for a professional massage, I highly recommend going to see her. She is highly in-tune with your body, and is focused throughout the session. Really amazing!!!!


Leigh S. @ Fri, 12 Nov 2010 22:31:26 +0000:
Brie is a Miracle Worker! My left knee had been acting up from an old injury, and I was having pain in my right heel, so I scheduled a Sports Massage with Brie yesterday. She fixed me up almost good as new....have had no pain whatsoever in my left knee and just minor pain in my heel after just finishing 60 minutes on the treadmill at full incline and swimming for 20 minutes after that. Highly recommended!!


Jenny L. @ Mon, 08 Nov 2010 09:56:19 +0000:
Brie is simply AMAZING! My entire body has never felt so good and rested until after her massages. She is strong, fluid and thorough, and I completely trust putting myself in her hands. I had knee surgery for a college injury a couple years ago, and lately it's been really irritated, so much that I couldn't even kneel down. I have seen Brie a few times now and it feels like 100% again! I love going to Brie and recommend her to everyone I know...she's truly that good!


Judy M. @ Wed, 03 Nov 2010 19:28:11 +0000:
Heaven!! Great recommendation! I've been having some neck and shoulder problems, and Brie was able to hone in on those problem knots in no time. I would drive all the way to Sacramento again for another relaxing massage. Thank you Brie :)
Stormi H. 03 Nov 2010 (As seen on MBB Yelp): Brie was polite, professional, and obviously loves her job.  I can not wait to go back! Easy online booking and special offers to first time clients.


Bill H. @ Sept 6, 2010:
"EXCELLENCE!!....." "Brie exceeded the high expectations I had after hearing a friend's recommendation. WOW!! A great massage! Now I am recommending her to my friends!! I have had the occasional massage at a high end spa, and they had nothing on Brie! 


Brad D. @ July 29, 2010:
"RELAXING!!....." "Brie was extremely professional and passionate about her work. I am in construction and my body is my livelihood and she put my body back on the right track. Next time, I will schedule an hour and a half! 


Derek N. @ July 4, 2010:
"INCREDIBLE!!...." "B was Awesome! She knew just the right pressure and points to help me recover from a long couple of weeks of hard physical activity! I have recommended her to my fellow cycling teammates! Can't wait for next time! 


Cindy @ June 29, 2010:
"WONDERFUL!!...." "Experiencing sciatica and Brie understood immediately. I will be back in the future. Brie's manner is gentle and warm. Office is close to work and home. Thanks!! 


Glenda S. @ June 8, 2010:
"AWESOME MASSAGE!!...." "I went in with a lot of stress in my neck and shoulders. A week later, I am still pain free. Have recommended Brie to all of my friends to have their kinks worked out" 


Roger and Maria @ Mon, 25 Oct 2010 01:15:44 +0000:
"THE BEST!!....." "We have been clients of Brie's for almost two years....she has always been professional, friendly, prompt, and caring...We are very pleased, and will continue to use her services...May 15, 2010


Mariah R. @ May 4, 2010:
"THE EXPERIENCE WAS AWESOME...."! I've had a lot of Massages due to constant back pain, but nobody has listened to my needs like Brie did. She went above and beyond for me, and has double the training and passion of anyone I've met in the industry. The price was great, the free hot stones were incredible, and all in all, the experience was awesome!!"


Marlene S. @ April 27, 2010:
"MY HOT STONE MASSAGE ROCKED!!....." "My hot stone massage yesterday rocked!! It was 90 minutes of pure relaxation. Brie worked some nasty knots out of my stressed out shoulders, and I feel like a million bucks. I have officially promised myself that I will visit Brie for a massage twice a month. I also appreciated the warm massage table, it was a nice touch :) Thank you Brie!! 


Herb and Thelma S. @ April 26, 2010:
"OUTSTANDING MASSAGE!! BEST we've ever had....." "As a Military Retiree, my wife and I have lived all over the world in my 27 years of service. We have had numerous massages during that time. I never thought that I would find any better than the Japanese. I really think that Brie outdid herself, and is truly outstanding!!


Michael S. @ April 1, 2010:
"EXCELLENT MASSAGE..." "Brie is sensitive to my aches and pains and works within my tolerance levels. She always makes sure that I am comfortable, but pushes me to my limit to break up the knots." 


Leigh S. @ March 29, 2010:
"AWESOME MASSAGE...." "Of course, I'm prejudiced because Brie is my daughter, but I'm currently training to swim the Alcatraz Sharkfest Swim with my son in 2011. I have been working out with a personal trainer 3x a week as well as swimming. Brie is truly blessed with a gift, she is passionate about what she does, and she takes the time to listen to her clients to custom design a massage to fit their specific needs. I couldn't do the intensive training without her to help my aching muscles." 

---
Have A Great Testimonial about Massage By Brie to Share?
Do you have a great Review, Testimonial or Recommendation for Massage By Brie? Share it!
What Other Visitors Have Said About Massage By Brie
Click below to see contributions from other visitors to this page...

OUTSTANDING MASSAGE

Today was my first visit with Brie. I've been around the Massage industry a long time and I can tell you that Brie does an outstanding massage. She knows …
Thanks, Brie Not rated yet
Just left your office - am already feeling much better. I hope you remember what you did, because I'm sure I'll be back soon. Thanks. Cindy

Book an Appointment with Brie
*****
Book an Outcall Service with Brie (Prenatal and Existing Clients only), by calling Brie at 916-790-4596 to schedule.
Please check out my 
---

Facebook - Like This Page?


Facebook - Like My Site?