Stress
The Underlying cause of 80-85% of ALL Illnesses!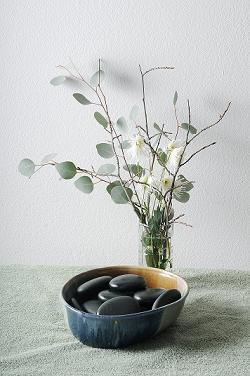 What is Stress?
About the best definition of Stress that I found, came from Angela Morrow, an RN. "Stress is the body's reaction to a change that requires a physical, mental or emotional adjustment or response.
Stress can come from any situation or thought that makes you feel frustrated, angry, nervous, or anxious.
Stress is caused by an existing stress-causing factor or "stressor"."
The Impact of Stress on Health....

Stress is recognized as the number one killer today. The American Medical Association stated that stress was the cause of 80 to 85 percent of all human illness and disease, or at the very least had a detrimental effect on our health.

Stress is a normal part of life. But if left untreated, stress can lead to emotional, psychological, and even physical problems, including coronary artery disease, high blood pressure, chest pains, or irregular heart beats.

Every week, 95 million Americans suffer some kind of stress related symptom for which they take medication.
The Impact of Stress on Business....
American businesses lose an estimated $200-$300 billion dollars per year to stress related productivity loss and other cost. To put this in perspective, this amount is higher than the total cost related to all strikes and the net profit from all Fortune 500 companies!
Companies that set up Corporate Chair Massage programs have the right idea!
Health Problems Related to Stress
Ten Health Problems Related to Stress That You Can Fix...by R. Morgan Griffin.
Heart Disease




Asthma




Obesity

- The link is to my Aunt Kerry's, Healthy Diet Habits website. My Mom, Leigh who does my website, is helping her with her website. Kerry has a Science degree in Dietetics degree. Kerry has some fantastic information on Obesity and Childhood Obesity, and tons of tips for weight loss, weight control, and learning to eat healthy, and lots of healthy recipes.






Diabetes





Depression and Anxiety




Gastrointestinal Problems




Alzheimer's Disease




Accelerated Aging




Premature Death
---

Unpleasant Effects of Stress


Your Stomach is constantly in knots.




Your muscles are sore and tense.




You are tired a lot of the time.




Most days you feel low and unhappy.




When you try to think of a solution, or a way out, you go blank.





Insomnia




Eating Disorders (Anorexia, Bulemia, Compulsive Eating) - I recommend that you follow my Aunt Kerry's,

Healthy Diet Habits

website for lots of great tips on Healthy Diet Habits. She is one of my Site Sponsors, so you can find her links on a lot of my pages! She has a great

Facebook Page,

- so "Like" the page and follow it!




Heart Problems




Blood Pressure Problems




Increased Heart Rate




Ulcers




Addictions (alcohol, drugs, cigarettes, sex, work exercise)



---

Massage and Stress


Reminder
Stress and Anxiety ARE reversible!! Massage Can Help!!
Massage Therapy is one of the best antidotes for stress. The massage room environment alone helps to de-stress a person with the dim lights, and soft mellow music. Stress can be significantly reduced by a therapeutic massage, which will increase your energy, boost your immune system which can become compromised from extended periods of stress, and help to improve your outlook on life. Muscular tension can be reduced by manipulation of the soft tissue by a massage therapist.
You can view all the additional benefits of Massage on my Benefits of Massage page!


It is especially important to remain "Stress Free", if you are pregnant, so regular Prenatal Massages can help you keep your stress under control during this special time! See the Benefits of Prenatal Massage for additional details.
---

Nutrition and Stress


Emotional eating is a negative way that many people cope with feelings tied to stress. Knowing what causes you to turn to food in stressful times is a key factor in preventing emotional eating. It is important to learn your eating triggers, and develop positive stress busters that do not involve eating, as well as healthy diet habits.
My Aunt Kerry, from Healthy Diet Habits has done five great pages on Stress, and Stress Weight Gain on her Healthy Diet Habits website, with lots of great tips on Stress Management and how to Overcome Stress Weight Gain: (the links go to her website)


---

Tips to Stress Less:

---

Tip 11 - Come in for a Massage!!

(Well really.....
I think this should have been Tip 1!!)

Book an on-line appointment with Brie from Massage By Brie today, and let me assist you with your Stress Management!
Stress Relief is just a "click" away! Regular Massage Therapy appointments can help in getting your stress under control!
To Book An Outcall Massage Appointment with Brie on Mondays and Tuesdays
Call, or Text, Brie at (916) 790-4596

To Book A Studio Massage Appointment with Brie on Wednesdays and Thursdays, use my Online Scheduler below!



Book an Appointment with Brie
*****
Book an Outcall Service with Brie (Prenatal and Existing Clients only), by calling Brie at 916-790-4596 to schedule.
Please check out my 
---

Facebook - Like This Page?


Facebook - Like My Site?