Sacramento - Prenatal Labor Massage Options


Prenatal Labor Massage, is one of Massage By Brie's Top Specialties! I have had extensive training in the Prenatal Massage Field, including Labor Massage, and have well over ten years of experience performing Prenatal Massage.
When you are looking for a Certified Prenatal Massage Therapist, a Certified Prenatal Labor Massage Therapist, or a Certified Massage Doula, especially one who can assist you in the delivery room, it is very important to find a therapist who has had specific training in the Prenatal Massage & Labor Massage area.
I am available to hire for Prenatal Labor Massage! Once initial arrangements are made, I will clear my schedule, and be available for you once you go into Labor and go to the hospital. Just call me at (916) 790-4596 on your way to the hospital, and I can stay for the duration, or as long as you need me!!!
I can help ease the labor pains by massaging your lower back, side, and stomach during labor and anywhere else that you need it. This is especially useful for those who try to do child birth without the aid of medication.
If you are having a home birth, I am available to come to your home to assist you with your labor.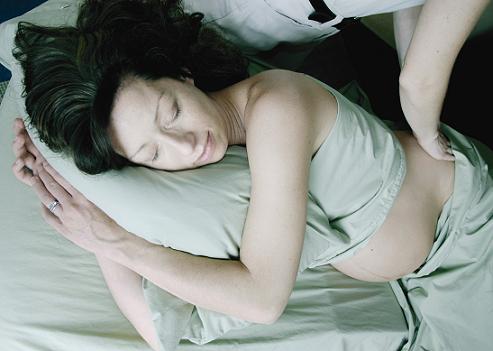 Prenatal Massage - Photo Courtesy of ABMP
Prenatal Labor Massage Review
"I have had many different therapists over the years, but now I have been with Brie for over a year. Awesome prenatal massages, awesome in the delivery room! My labor was so much better after my four hour massage. The best part of Massage By Brie, is that you get an amazing massage, and the schedule is flexible, so if you want one on a Saturday at 8am, or Wednesday at 6pm, Brie works with you to get the best time that works for you.  Brie, my back and shoulders thank you!"
Gwen @ Mon, 15 Nov. 2010
---
To find out how Pregnant Women can benefit from Labor Massage Therapy or Massage Doula Services in the Delivery Room (or at home), please see my Massage Doula page for more information.
---
My Massage Certifications
California Certified Massage Therapist - Requirement is 500 hours of Training.


Certified Prenatal Massage Therapist - 20 Hours of Advanced Prenatal Massage + Refresher Course taken in Jan, 2011.


Certified Labor Massage Therapist - 6 Hours of Labor Massage Therapy Classes


Certified Massage Doula - 12 Hour class
---
Massage is MY Passion! I Love working with Mom's to Be! - Here is some information that I wrote in a blog posting right after I took my Prenatal Labor Massage Certification Training in 2010:
I recently took a Prenatal Labor Massage Therapy class at the Healing Arts Institute, in Citrus Heights, California. Even though it was only a six hour class, it was packed with so many tips and I learned alot. I'm already Certified in Prenatal Massage, as I have been specializing in Prenatal Massage, since 2007. This class expanded my knowledge about the entire birthing process from start to finish.
I learned all about the acupressure points which have numerous benefits such as:
promoting natural labor induction

relieving labor pains

aiding with labor contractions

helping relieve nervousness, fatigue, and tension
In the class, we also touched on the benefits of essential oils for labor and birth which have many unbelievable effects. I recently purchased a small table water fountain, and downloaded a bunch of relaxing massage music, nd have purchased some essential oils as well, so that I can create a soothing and calming atmosphere in the delivery room for my clients.
Learning about home birthing, and hospital birthing gave me an idea of the different ways that a woman can plan their birth. I recommend watching, "The Business of Being Born", to get an idea of how you want your birthing process to go. Seeing this movie, made me really excited about starting the Certified Massage Doula course that I just signed up for, (class is now completed!) so I can be there to help a woman with positioning, relaxing, setting the right energy, helping with the pain, and just overall being there for her during the whole dilation, labor, and birth! How exciting!
I Love My Moms!
---

For additional information - click on the links below: (links coming shortly!)
---
I Look Forward to being your Prenatal Labor Massage Therapist!!
          Please contact me at            (916) 790-4596

Book an Appointment with Brie
*****
Book an Outcall Service with Brie (Prenatal and Existing Clients only), by calling Brie at 916-790-4596 to schedule.
Please check out my 
---

Facebook - Like This Page?


Facebook - Like My Site?