Hot Stone Massage

A Hot Stone Massage, uses basalt stones of all shapes and sizes. The stones can be used cold, or heated in water to a temperature of 130 degrees. The hardness of the stones allows the therapist to address specific problem areas with more detailed work or deeper pressure.


Hot Stone Massage is currently not being offered as a service.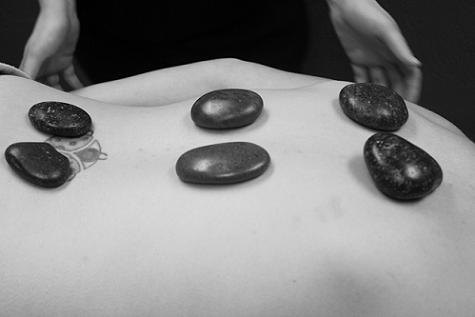 A Sacramento - Hot Stone Massage from Massage By Brie
Photo Credit: Kendall Tobe, of Sacramento, CA
Model Credit: Carmalee Giambeluca

---
Stones can be layered under, or on top of the client, with a sheet or towel between the client and the stone, while I simultaneously massage the client with oiled, heated stones held in the palm of my hand with firm strokes along the muscles of the legs, arms, back of neck, and torso area. The heat from the stones relaxes muscles and increases the blood flow to the area being worked on, which helps to further accelerate the healing process.


Stone layout will typically be along the sides of the spine. Stones can also be placed in the palm of the hands, in between the fingers and toes, and on any muscle that a client is having difficulty with. For example, My Mom, has an old knee injury, that acts up from time to time, and I can place a heated stone on top of the problem area to assist with the healing process.


Adding Hot Stones to a Massage is especially relaxing and enjoyable in the Wintertime!


The History of using Hot Stones for Massage and Healing Purposes:
The use of stones and gemstones for healing purposes, reportedly dates back thousands of years ago. Written documentation confirms that the Chinese used heated stones more than 2,000 years ago, as a means of improving the function of internal organs.
Stones have also been used for ceremonial uses, such as in sweat lodges, and stones have been carried on the body for health and protection. Uses of stones for healing were also recorded in North & South American, Africa, Egypt, India, and Europe.

Book an Appointment with Brie
*****
Book an Outcall Service with Brie (Prenatal and Existing Clients only), by calling Brie at 916-790-4596 to schedule.
Please check out my 
---

Facebook - Like This Page?


Facebook - Like My Site?