Sacramento
Prenatal Massage Specials


I am no longer offering Massage Packages or Gift Certificates at this time ~Brie
I am offering Prenatal Massage Specials of Pre-Paid Packages of 6 Massages that are Designed specifically for the 2nd and 3rd Trimesters of your Pregnancy. The Price per Massage in the package is $70.00/hour which is $5 off my normal Prenatal Massage Rates. With the affordable price, this allows you to come in for a massage when you need it!
I have set up a special Bundled package that must be Pre-Paid using the link below. You will be able to print your package deal, and each package will have it's own unique number that will allow for the tracking of the massages on my computer. After each massage, I will enter that you used one massage, and the system will keep track of remaining balances. Even though the package is set up for 6 - 60 minute massages, if you decide to have a longer massage, for example a 90 minute massage, it would just be entered on my computer that you used 1.5 of your 6 massages, so you can mix/match your times. If you happen to go into labor early, any dollar balance remaining on your Pre-Paid package can be applied to any Massage after your baby is born.
The frequency of the massages, will allow us to develop a close professional relationship, so that if you choose to use my services in the Delivery Room for Labor Massage you will feel comfortable!
This package deal is perfect for Baby Shower Gifts that you can have your friends & family go in together to purchase for you! They work well for Christmas, Birthday, Anniversary, Valentines Day Gifts, or the "Just because I Love YOU, and Got YOU Pregnant Gift"!
You can also purchase one of my 3 pack specials which work for any type of massage, including Prenatal Massage. Also, watch my Massage Specials page because I often run package deals for Major Holidays that are a little less than my regular package deals.
I am offering these packages with special pricing to allow Prenatal Clients to afford to come in more frequently than they normally could, because I realize the huge benefits of Prenatal Massage!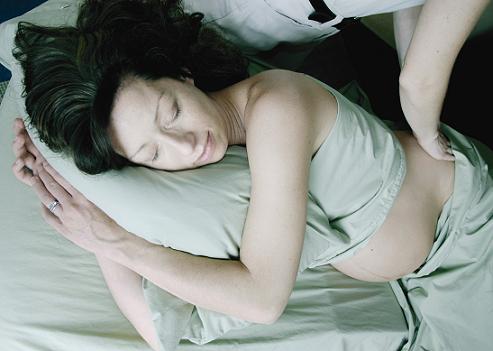 Prenatal Massage - Photo Courtesy of ABMP
Prenatal Massage Testimonial
Brandyn H. @ December 11, 2012
Best Prenatal Massage!
I've been getting massages regularly for years.  When I got pregnant, I had a hard time finding a good prenatal massage. Most prenatal massages were ineffective at relieving the common aches of pregnancy, because they did not apply any pressure. After several failed attempts, I found Brie. Quite simply, the Best Prenatal Massage! She uses gentle pressure, targets the hips and low back pain, and really does an amazing job! Now my husband and I both go to Brie for all our Massage needs.
See more Testimonials and Write Your Own!
---
I Look Forward to being your Prenatal Massage Therapist!!
---
Schedule a Prenatal Appointment
To Schedule YOUR Sacramento - Prenatal Massage: - I am available Mon - Friday from 12pm - 8pm by using my Online Appointment Scheduler. I do leave my work phone (916) 790-4596 on 24-7, so if you have made arrangements in advance for labor massage, and do go into labor, please call me night or day!! I'm here to help!
PLEASE NOTE: I am only offering 60 minute and 90 minute Prenatal Massage Appointments.  I have found that the 120 minute appointments are just too long for the Pregnant Ladies!
To Book An Outcall Massage Appointment with Brie on Mondays and Tuesdays
Call, or Text, Brie at (916) 790-4596

To Book A Studio Massage Appointment with Brie on Wednesdays and Thursdays, use my Online Scheduler below!



Book an Appointment with Brie
*****
Book an Outcall Service with Brie (Prenatal and Existing Clients only), by calling Brie at 916-790-4596 to schedule.
Please check out my 
---

Facebook - Like This Page?


Facebook - Like My Site?