Sacramento Sports Massage
Let Massage By Brie Assist YOU with YOUR Sacramento Sports Massage Conditioning!


A Sports Massage is custom designed for athletes of ALL levels and ALL sports! I customize your Sacramento Sports Massage, to fit YOUR Sport, and I focus on the muscle systems relative to YOUR Sport!
Whether you engage in weekend sports, are a tri-athlete or a world professional athlete, Massage By Brie can assist you in your sports conditioning, both pre-event and post-event!! Regular on-going Sports Massage can help prevent Sports Injuries, or help you recover from a Sports Injury.
Sports Massage, Prenatal Massage, Labor Massage, Deep Tissue Massage and Myofascial Release for Pain Management are my top specialties, so I work on a lot of athletes from various different sports.
When you are looking for a Sports Massage Therapist in Sacramento, it is important to find one who has had specific Sports Massage Training, and Sports Massage experience working on athletes!
---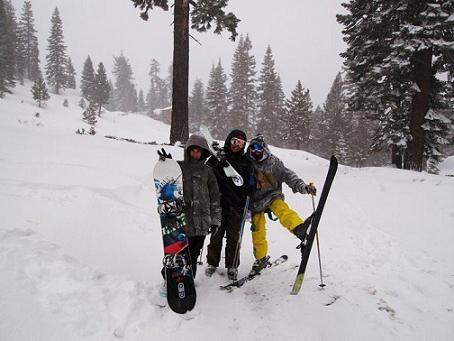 This is a picture of my friend Tiffany Watts, and two of her friends Skiing and Snowboarding. She moved from Sacramento to South Lake Tahoe a few years ago.
Sports Massage Testimonial
From: Derek N. on October 25, 2010
"INCREDIBLE!!...B was Awesome!"
She knew just the right pressure and points to help me recover from a long couple of weeks of hard physical activity!  I have recommended her to my fellow cycling teammates! Can't wait for next time!
See more Testimonials and Write Your Own!

Additional Information:


Additional information on Sacramento Sports Massage will be provided soon on these topics. - I will go over the different problems and sports injuries that are common in each sport, and how Sports Massage Therapy can help you avoid injuries or recover from them:
Benefits of Sports Massage - Massage By Brie's Top Ten Reasons why ALL Athletes should include Sports Massage as part of their Sports conditioning

Sports Massage for Baseball & Softball Players

Sports Massage for Basketball

Sports Massage for Cyclists

Sports Massage for Golfers

Sports Massage for Runners

Sports Massage for Skiers and Snowboarders

Sports Massage for Soccer Players

Sports Massage for Swimmers

Sports Massage for Tennis Players

Sports Massage for Walkers

Sports Massage Resources - Here I will link to great articles and websites and products that I have found to assist with Sports Conditioning.
Sports Nutrition - My Aunt Kerry, has a degree in Dietetics and runs a business, 

Healthy Diet Habits

that deals with Emotional and Mindless eating. She is working on some sports nutrition information for me!

Stretching

Warm Ups and Cool Downs - necessary to prevent sports injuries!
Your Sports Stories! - I'll provide a form where you can share your Sports Stories, Sports Accomplishments and pictures, and tell how Massage has helped you in your Sports Conditioning!
Book a Sports Massage with Brie
To Book A Massage Appointment with Brie 
Call, or Text, Brie at (916) 790-4596 or use the online appointment scheduler below if you live in the Sacramento area.


---

Like This Page?