Sacramento Massage Gift Certificates


Sacramento Massage Gift Certificates are currently being offered for a limited time for purchase from Massage By Brie online.
Hi everyone! (7-12-19)
A lot of you have been asking about gift certificates and packages.  I haven't done a sale in TWO YEARS!!! So here is a flash sale for you all, Friday, Saturday, and Sunday only (7/12/19 - midnight at 7/14/19)

I have a limited amount of packages and gift certificates that I'm offering, so get them before they go....my next sale won't be until the holidays!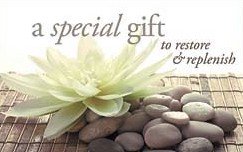 Purchase an Instant Gift Certificate Online 


Purchase an INSTANT Massage Gift Certificate that can be emailed directly to the recipient, or you can print it yourself to include with your own card. You have the option of writing a personal message.
Instant Gift Certificates can be purchased from the "Buy Now Gift Certificate" Button Below. This option works best for those last minute purchases!!
PLEASE NOTE:
Gift certificates must be done at my studio located at 2623 24th Street, Sacramento, CA in the Curtis Park Neighborhood. (I rent a room inside Skin Love and Lashes). For a map and directions to my location, please see my Directions page.

Please be aware that, I am typically booked 2-3 weeks out with a waiting list.  I do occasionally have last minute appointments due to cancellations that I announce on my Facebook page, so please be sure you follow Massage By Brie there.  

---

Like This Page?